The Avro Vulcan was designed by A. V. Roe and company at Chadderton near Manchester. Technical drawings were starting on the revolutionary delta-winged bomber in January 1947 to fulfil the requirements of the Ministry of Defence specification B35/46. This specification required an aircraft to be able to travel 3,350 nautical miles at a speed of 500 knots with an operating ceiling of 50,000 feet carrying a "special" payload of 10,000 imperial pounds weight. Of course this "special" payload was in fact a nuclear device.
By January of the following year the company were ordered to product two prototype aircraft for testing. Since no data was available on the low or high speed handling characteristics of the delta-wing the Ministry of Supply ordered two 1/3 scale models to be constructed. The initial trails of the aircraft prototype, called 707, appeared promising.

Avro 707 WZ744 RAF Museum Cosford
However on the 30th of September 1949 the plane crashed killing the test pilot.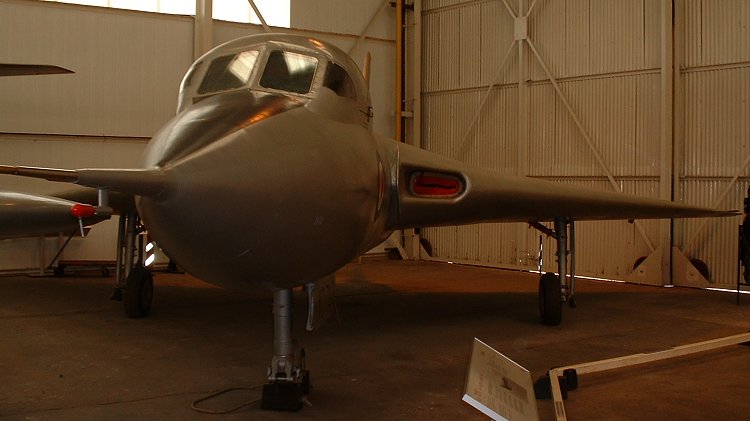 Avro 707 WZ744 RAF Museum Cosford 2002
Despite much investigation no reason for the crash was ever established. Another prototype was built, this time incorporating an ejection seat. It was first flown by A. V. Roe test pilot Wg Cdr Roly Falk. After flying over Boscombe Down for fifteen minutes Falk was clearly impressed. He telephoned both the director of A.V. Roe and the Air Marshall requesting permission to fly the aircraft at the forth-coming Farnborough air show. More tests, at various speeds, were conducted at Boscombe Down and Dunsfold. These tests helped engineers and designers gradually improve and refine the aircraft. For example, in order to reduce the amount of runway required for take off the nose wheel leg was extended by nine inches.
Naturally over the coming months, more developments followed and piece-by-piece the aircraft we now call the Vulcan began to take shape. The new Olympus engines which had been ordered were not ready in time as they were undergoing vigorous ground tests. Thus the airframe was equipped with Rolls-Royce Avon RA3 units. The Avro team worked long hours to fit together the numerous parts of the new bomber. Finally during the last week in August 1952 the new aircraft emerged from its construction hangar at Woodford. It was painted in its "anti-flash" white paint, and carried the distinctive RAF roundels on its fuselage.
Deciding on a name for the new aeroplane took some time. Initial ideas included "Albion", and "Avenger". However both Vickers and Handley Page were also constructing aircraft to be used by the RAF at this time. The Vickers company had already named theirs "Valiant", and it was Chief of Air Staff, John Slessor who requested that the new aeroplanes from H.P. and Avro should have names starting with "V". Handley Page selected Victor, whilst Avro chose Vulcan, the name of the Roman God of fire, for their new aircraft.
On the 30th of August 1952 Roly Falk took the new Vulcan on its maiden flight. It was the biggest and most unusual aircraft he'd ever encountered, but his experiences with the 707 prototype gave him confidence in the delta wing design. After a brief pause to clear a flock of seagulls from the Woodford runway the Vulcan took to the skies. Falk took the Vulcan to 10,000ft, completed a number of manoeuvres then descended to land. However when the undercarriage was lowered, air traffic control informed Falk that, "something had fallen off." Two aircraft were sent up to assess the extent of the damage. Their pilots reported that the fairing panels behind the undercarriage had become detached. This in itself was not a major problem, and Falk was able to land safely using the braking parachute to reduce overall stopping distance.
The new Olympus 202 engines were finally installed in time for the Farnborough air show. This meant that lots of extra development work was needed, as the new engines were more powerful than those previously fitted to the aircraft, and thus changed many of its handling characteristics to a great extent.
The RAF took delivery of its first Vulcan, XA897, in September 1956. However on returning from a trip to New Zealand XA897 crashed in poor weather at London Airport. Captain and Co-Pilot survived, other crew members lost their lives. This set back the whole Vulcan programme and it was not until 1957 that the second Vulcan, XA595, was sent to 230 OCU for training purposes. By the 20th May 1957 five more aircraft had arrived at the OCU base in Waddington.

The Vulcan had arrived....
Use the time line below to discover significant dates in the development and service life the Avro Vulcan. Click on a year to find out what Vulcan-related occurrences took place at that time.
---
1950
First flight of VX790. The type 707a research aircraft.
---
1951
---
1952
First flight of the VX770 from Woodford.
---
1953
First flight of VX777 second prototype 698.
---
1954
Development programme for Blue Steel stand off missile begins.
37 Avro Vulcan aircraft ordered for Royal Air Force (RAF).
---
1955
Vulcan B1 XA889 is completed and presented to the RAF.
25 more Vulcans are ordered.
---
1956
Blue Danube, free fall atomic bomb enters service.
Order placed for 24 more Vulcan B2 aircraft.
Development of Blue Steel missile enters second phase.
Vulcan B1 enters RAF operational service.
230 Operational Conversion Unit formed to train crews to fly the Vulcan
VulcanXA897 crashes at Heathrow Airport.
---
1957
83 Squadron forms and operates Vulcan B1 aircraft.
First test of 2/3rd scale Blue Steel missile completed successfully.
101 Squadron reforms with Vulcan B1 aircraft.
---
1958
Final production order for B2 Vulcan issued for 40 aircraft.
No 617 Sqn forms with Vulcan B1
Maiden flight of first production B2 variant Vulcan (XH533)
---
1959
VX770 prototype crashes after wing failure in Nottinghamshire.
Trials of Blue Steel at Woomera Range, Australia begin. They continue until 1961.
---
1960
US & UK agree to proceed with Skybolt air-launched ballistic missile programme.
Vulcan B2 cleared for operational RAF service.
RAF begins to convert Vulcan B1 to B1a specification
No 44 Sqn forms with Vulcan B1a aircraft.
No 83 sqn begins using Vulcans
---
1961
No 27 sqn forms with Vulcan B2
No 101 sqn relocates to Waddington with Vulcan B1a
No 50 sqn equipped with Vulcan B1a
No 617 sqn transfers to Vulcan B2
Vulcan B2 used in trial drops of Skybolt.
---
1962
No 9 Sqn begins to use B2 variant
No 12 Sqn begins to use B2 variant
No 617 sqn given Blue Steel weapon
Troubled Skybolt programme finally cancelled.
---
1963
Last Vulcan B1 to be converted to B1a enters service
---
1964
Bomber Command takes delivery of last production Vulcan (XM657)
---
1965
Vulcans take part in Air Defence Exercise :
Codename High Regal.
---
1966
First trials of terrain following radar (tfr) conducted using XM606
Vulcan B1 / B1a begins to leave RAF service. This continues for a year.
Vulcans take part in Air Defence Exercise :
Codename Short Spica.
Vulcans take part in Air Defence Exercise :
Codename High Castor.
---
1967
Vulcans take part in Air Defence Exercise :
Codename High Mars.
---
1968
Amalgamation of Bomber Command and Fighter Command into Strike Command.
Vulcans take part in Air Defence Exercise :
Codename High Jupiter.
Vulcans take part in Air Defence Exercise :
Codename Rum Keg.
---
1969
No 9 & No 35 sqn form NEAF Bomber Wing in Cyprus.
Nuclear deterrent role handed from RAF to Royal Navy with Polaris.
Vulcans take part in Air Defence Exercise :
Codename Town House.
---
1970
Vulcans take part in Air Defence Exercise :
Codename Castor Oil.
Vulcans take part in Air Defence Exercise :
Codename Opal Digger.
---
1971
XM610 crashed at Wingate following an engine bay fire.
---
1972
Trials begin with ARI 18228 fitted to XM597.
Vulcans take part in Air Defence Exercise :
Codename Whiskey Sour.
Vulcans take part in Air Defence Exercise :
Codename Top Limit.
Vulcans take part in Air Defence Exercise :
Codename Dry Martini.
---
1973
No 27 Squadron re-equips with SR2 variant Vulcan.
---
1974
Invasion of Cyprus by Turkish militia forces 1No 9 & No 35 sqn to return to UK.
---
1975
XM645 crashed at Zabbar, Malta in October. Remains of the aircraft can be found in Zabbar Parish Church Museum.
---
1976
---
1977
XM600 Crashes near Spilsby following an engine bay fire.
---
1978
---
1979
XA903 was the last Vulcan B1 to fly.
This aircraft was the test bed for Concorde & Tornado engines.
---
1980
Last Vulcan to visit Australia (XM571, from Squadron 617) leaves Adelaide in April.
---
1981
230 OCU disbands
No 617 Squadron disbands as a Vulcan unit
---
1982
101 & 44 Squadron disbanded
No 35 Squadron disbanded
27 Squadron disbanded
Argentine forces reported to be3 occupying Falkland Islands
Remaining Vulcan units begin preparation for Operation Corporate
29th April 1982
Two Vulcans deployed to Ascension Island
30th April 1982
Woodford receives itís first Vulcan for conversion to K2 variant (tanker aircraft)
1 May 1982
Black Buck 1 raid on Falkland Islands launched.
3 May 1982
Black Buck 2 takes place leaving from Ascension Island
4/5 May 1982
Test firings of Martel Missiles attached to external wing-mounted pylons.
16 May 1982
Black Buck 3 cancelled.
28th May
Black Buck 4 launched
30th May
Black Buck 5 launched
2nd June
Black Buck 6 launched
11th June
Black Buck 7 launched
14th June
All Black Buck Vulcans return to Waddington after Argentine forces surrender.
First flight of Vulcan K2 tanker
50 Squadron receives delivery of K2 tankers
No 101 Squadron disbands
No 44 Squadron disbands
---
1983
XM612 sold to Norwich Aviation Museum.
XM598 delivered to RAF Cosford.
---
1984
50 Squadron disbanded. Avro Vulcan leaves RAF service.
XM655 delivered to Wellsbourne Mountford.
---
1985
---
1986
XL426 sold to Roy Jacobsen and delivered to Southend Airport.
---
1987
XL426 registered as G-VJET
---
1988 onwards
1992
16 September, XH558 taxies out of Waddington for the last time to embark on public performances.
20 September, XH558 performs the last public Vulcan display at Cranfield airshow.
21 September, XH558 returns to a cloudy Waddington. At 10:35GMT her engines are shut down.
1993
23 March, XH558 is flown to Bruntingthorpe airfield in Leicestershire. She is sold to her present owners, Walton Ltd.
2002
Funding from the Heritage Lottery Fund is rejected.
The future of XH558 remains uncertain.
2008
The Vulcan flies again!
---